The 51st Winternationals at Willowbank Raceway delivered Australia's first female Top Fuel champion – and a huge weekend of thrilling action.
Here are some of the highs, lows and heartbreaks, captured by the Drag Photos crew.
Brisbane driver Kelly Bettes'  team celebrate the championship win, above, and an emotional Kelly moments after becoming the first female to win a Top Fuel Championship in Australia, with team owner Phil Lamittina.
Santo Rapisarda cheers, after Damien Harris wins Top Fuel for RAI.
After making it through to the semi finals, Luke Crowley didn't quite get into stage in time and timing out handing the win to Maurice Allen in Pro Bike.
Wayne Newby having some time out as the crew prepare the Top Fueler for the next round but fierce competition had him slide down the points.
Wayne Newby in his Top Fuel Dragster for RAI.
Rachelle Splatt, known as the Queen of Speed, after a 20-year hiatus is back in the top fuel seat with thanks to Gulf Western Oils putting three females in the mix.
Mark Belleri in his safety cage of chrome moly prepares to send his Pro Slammer Monaro down the black track.
Budge cheering on long time friend and Racer Luke Crowley in the Pro Bike Catagory.
Assassin cheering on Shane Barnard in Pro Radial always a character around the track.
The 30,000-plus race fans, line the grandstands to the brim to check out the action.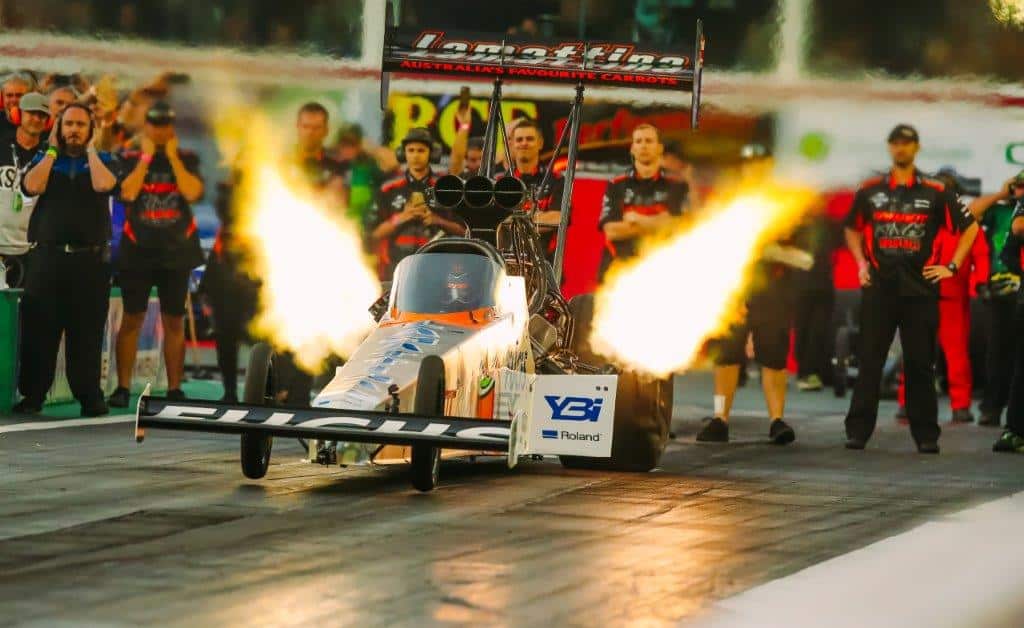 Top Fuel flames into the sky over 10000 hp in four seconds.
Ashley Sanford (USA) in action.
Victor Bray, a drag racing icon.
Shimmer and Shine added some razzle dazzle on the sidelines for some of the littler fans.
Stuart Bishop, above, and, below, being guided to a stop by crew chief Daniel Reed.
The 51st Winternationals were held from June 7 to 10 at Willowbank Raceway – check the website for more events on the 2018 calendar.